"SORRY, THANKS" wins the ADRIENNE SHELLY DIRECTOR'S GRANT!
This actually happened back in September … but that was before we had NEWS sharing capabilities!
So, slightly belatedly, a big update: Dia was awarded the Adrienne Shelly Director's Grant for Sorry, Thanks, at IFP's Independent Film Week, here in New York. Needless to say, the grant is not only an incredible help towards finishing the film, but an enormous honor. We are thrilled and humbled. Adrienne Shelly was a supremely talented writer/director/actress (and damn funny)—everyone who's seen her celebrated Waitress knows as much. But she was also (as evidenced amply by the friends who continue to work in tribute to her memory) a singularly beloved, fiercely determined creative spirit. For the past two years, the Adrienne Shelly Foundation has been a key support to female independent filmmakers who are hard at work rallying to get their own stories up on the big screen. The director's grant is tremendously important: not only because it acknowledges that female directors are up against a glass ceiling, but because it's a step towards shattering said ceiling.
Here's Dia with Andy Ostroy (Adrienne Shelly's husband), at the IFP awards ceremony on September 18th: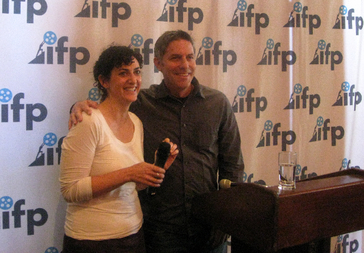 And congratulations to our friends from the IFP Narrative Rough Cut Lab (which Sorry, Thanks took part in back in June)—Joseph Cashiola, Nathan Duncan, and Jeff Harms—who won the IFP Finishing Funds Grant for their film A Thing as Big as the Ocean (yeah!). You can read the full Indiewire article, with a wrap-up on Independent Film Week and more info on all the IFP awards here: "Dispatch from New York."